NEED A DOCTOR?
FAMILY MEDICAL CLINIC IN PORT RICHEY HEALTH CENTER
COME AND EXPERIENCE OUR WALK-IN CLINIC
Our goal is to ensure that every patient has an exceptional experience from both a medical and a personal standpoint. You are welcome to visit our walk-in medical clinic in Port Richey. At Port Richey Health Center, we take a proactive, preventative approach to healthcare tailored to your lifestyle and personal needs.
We accept Medicare, Aetna, Cigna, Humana, and Blue Cross insurances and we continue to work on adding more.
Self-pay patients are welcome.
We also have an in-house health plan WeCare Health Options that provides for both primary care visits and prescription coverage. Call and ask for details or click on the WECARE tab.
OFFICE HOURS
MONDAY – FRIDAY
9:00 am – 8:00 pm
SATURDAY
10:00 am – 4:00 pm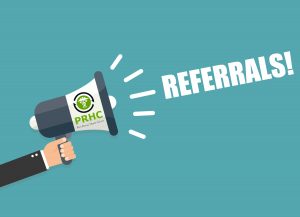 Refer a Family Member or Friend!
Get a $10 Gift Card
towards your next visit.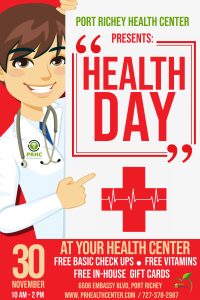 11/30/2019
10:00am – 2:00pm
Join Us for a Day of Health, Info, and Fun!
Free Health Check Day
Free VITAMINS from green APPLE Pharmacy
Free In-House GIFT CARDS towards our services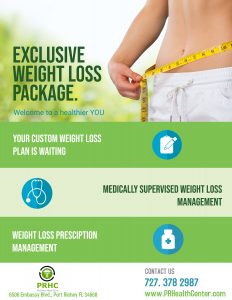 10/5/2019
10:00am – 2:00pm
Join Us!
Weight Loss Management Launch
Free initial consultation

Family Services
School/sports physicals
DOT physicals
Annual Physical
IN-HOUSE PROCEDURES
EKG
Ear wax removal by irrigation
Removal of foreign body
Simple abscess drainage
Simple suturing
Suture removal
Warts/Skin tag removal
Simple/superficial wound dressing
Nebulization/breathing treatment
Anti-Nausea injection
Antibiotic injection
Steroid shot
Burn treatment (Minor 1st degree burns)

In-House Lab & Immunization
IN-HOUSE TESTING
Pap smear complete
Urinalysis (Dip sticks)
Pregnancy Test
Rapid Strep Test
Rapid Urine Drug screen
Glucose finger stick
UTI Testing
Blood draws
VACCINES AND IMMUNIZATIONS
Tetanus/DTAP
Zoster vaccine (Zostavax)
Hepatitis B (each shot)
Tuberculin (TB test)
Influenza (Flu shot)
Se habla Español.
мы говорим по русски.
Wir sprechen deutsch.
Location
Port Richey Health Center
6506 Embassy Blvd
Florida 34668
Contact
Please contact us:
727-378-2987
Hours
Monday – Friday
9:00 am to 8:00 pm
Saturday
10:00 am to 4:00 pm